DIAPHANES 5: TAMING THE GAZE  turns its attention to deception and censorship, violence and consumerism, desire and norm, looks for reflections between the poles, ambiguous peripheries, moments of anarchic seeing—not just in art.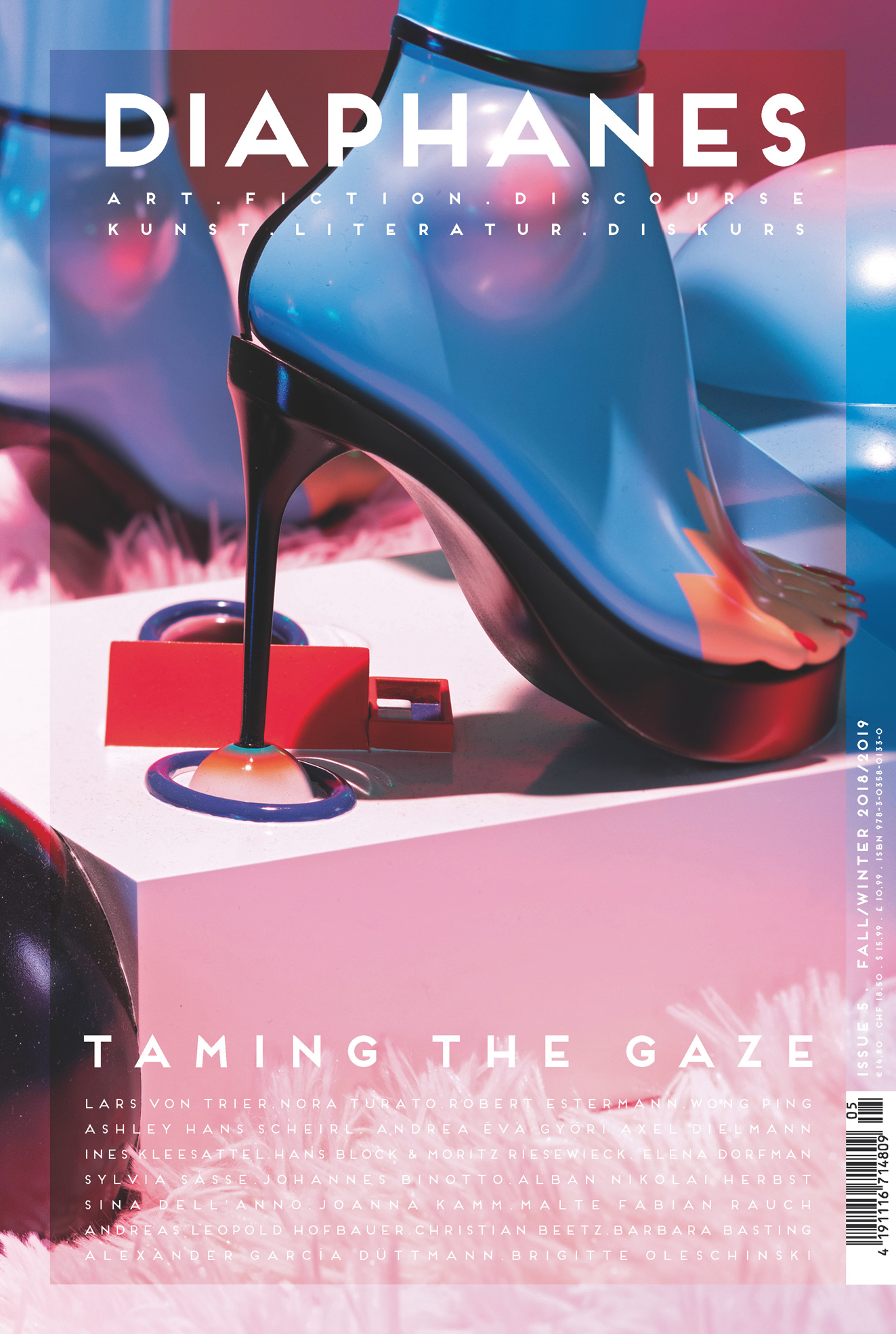 Lars von Trier seeks the Kaspar Hauser of cinema in a long conversation. Elena Dorfman beholds the origin of the world in Uncanny Valley. Alexander García Düttmann addresses the moralism of form. Beyond the pleasure principle, Wong Ping's true stories are a provocation. Ashley Hans Scheirl stages her scene's ob_sceneries. Uma Thurman's face becomes vulnerable. Andrea Éva Győri traumatizes apples and lemons. In their essay Hans Block and Moritz Riesewieck show us what we don't see and that other people delete, while the boundaries of what is permissible to show are sounded out in conversation with the documentary film producer Christian Beetz.
Also in this issue: Literary texts and poems by Axel Dielmann ("The Dressmaker"), Alban Nikolai Herbst, and Brigitte Oleschinski. Sina Dell'Anno writes about the Roman Saturnalia, Sylvia Sasse about operative censorhip in der GDR, Johannes Binotto about Shakespeare's The Taming of the Shrew, Andreas L. Hofbauer about the yoke at the beginning of the alphabet, and Malte Fabian Rauch about "Phenomena in Exile". No w here is configured by Nora Turato, and the scattered inserts are from Robert Estermann. And, taking a book with her, Ines Kleesattel visits the Balthus retrospective in Basel for our new rubric, Collisions.
The Questionnaire is answered this time by Joanna Kamm, the new director of the LISTE Basel; Luc Meresma finds an especially fine false front for Future Pluperfect; Fritz Senn sent in a text for the rubric I remember, and The Artful Flaneur visits a street in Tallinn. Once again you can find Barbara Basting's Facebook column, the rubrics The Transversal Shelf and Dear Paul, and in this issue for the first time recommendations for art exhibitions, music, and film throughout the magazine.
Subscribe now and receive the current issue, including PDF and the DIAPHANES bag "Shut your eyes and read!".
We wish you good reading and invite you to our Release Night on December 8 at ESPACE DIAPHANES.